You look like an idiot (in a funny way)
VR/AR/MR has been actively developing these years. We have seen Facebook Oculus leading VR, Google ARCore and Apple ARKit leading AR (not particularly using a head-mounted display but I'm sure there will be one), and Microsoft Hololens leading MR. In the end they could all become a similar thing: user wears some sort of headsets (or glasses if powerful enough) and sees a screen with fancy stuff.
If you are the person wearing the device, it is fine. You feel you are awesome. You live in a virtual or semi-virtual world and see things no one else can see.
But, others see you as an idiot. That you are weird (in a funny way). Refer to the following video:
How to make you look less (funny) weird?
The question is: how can you look not so (funny) weird?
While you can share your screen with friends so they know what you are doing, you still look funny, like (didn't mean to pick Lenovo only):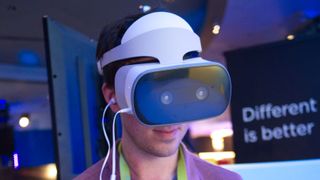 Hmm... see where the problem is? The headset hardware itself!
It is bulky. It has to go around your face. And you look very dull (and thus funny somehow..).
Continue reading

Wearing VR/AR/MR Headsets Can be Not So Weird